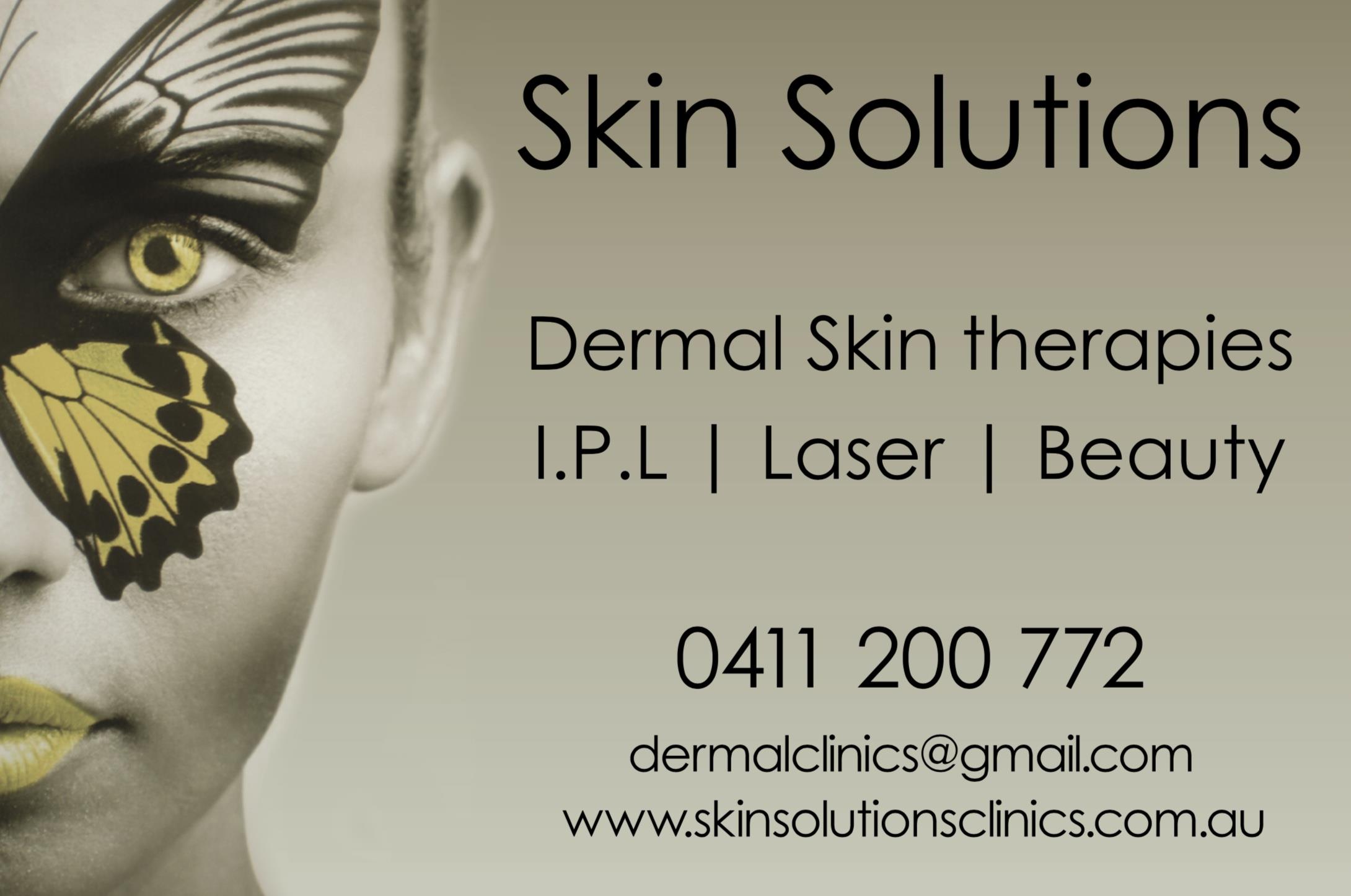 Skin Solutions - Skin, IPL , Laser & Beauty
SKIN SOLUTIONS -Skin Clinic, Laser & IPL Treatments,

A Dermal Therapist & ex Educator, my passion and education is in all things Skin and rectifying any problems my clients are experiencing with theirs.
I've completed further studies with fundamental Human Nutrition/Wellness and my specialties are Clinical Peels, Microdermabrasion, Dermaplaning, Radio Frequency tightening, Signature Facials & Oxygen Treatments, Electrolysis, I.P.L Corrections for Vascular, Acne, Pigmentation and Anti-aging Rejuvenation, progressively Permanent Hair reduction, China Doll (Carbon Laser Peels), C.I.T. Skin Needling ( Scar correction, Collagen induction ), small Tattoo Removals, L.E.D Light Therapy, Ultrasound Infusions & Fat Cavitation, Plasma -for non surgical Blepharoplasty, Wrinkle reduction & Skin tightening.
Facial waxing/ Lash Tinting & Brow Laminations.

Also Cosmetic Tattoo - specialising in Powder Brows.

Skin Solutions is a multi award winning business with extensive experience and many post graduate education qualifications.
Allow me to treat you with a quality experience & treatment.
I would welcome the opportunity to assist you with a preliminary consultation / skin analysis, over a cup of Tea.

I use medical grade Equipment & Skincare, (O Cosmedics & Ultraderm).
Also offer Vita-Sol Wholefood Nutritional Powders & Natural Edge Fulvic for health & detoxification.
A selection of Jane Iredale Mineral Skincare makeup, including Foundations & Beyond Matte Lip Stain.
Eyenvy Lash growth Serum, Professional Teeth Whitening Kits and a beautiful gift line of Abode Aroma Luxury Crystal Candles & Diffusers....

Skin Solutions - Skin, IPL , Laser & Beauty
Sue

Dermal Therapist / Cosmetic Tattooist / Natural Health & Wellness Practitioner

My passion is Skin, Health & Wellness. A qualified Dermal Therapist, I've also taught the Diploma of Beauty Therapy and completed studies in Business & Nutrition. I offer a broad range of Aesthetic Treatments, Facial Tattooing & a range of Medical Grade Skincare & WellBeing products. I have extensive experience & knowledge and strive to achieve the results we both expect.
Skin Solutions - Skin, IPL , Laser & Beauty
Skin Solutions - Skin, IPL , Laser & Beauty
Skin Solutions - Skin, IPL , Laser & Beauty
SKIN SOLUTIONS - Skin, IPL, Laser & Beauty
144 Railway Street, Claremont- Cottesloe, Perth, WA, 6010
0411200772
Monday

Tuesday

Thursday

Friday

9:30am - 5:30pm

9:30am - 5:30pm

10:00am - 6:30pm

9:30am - 5:30pm